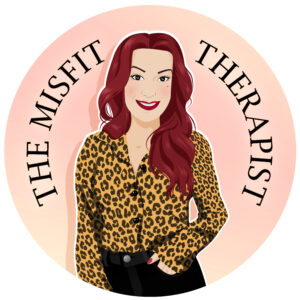 I'm Dr. A, the voice behind The Misfit Therapist. I'm a licensed psychotherapist in California. Specifics? I'm an LCSW and LPCC. My doctorate is actually in Social Work, and I graduated with a 4.0 (smarty pants). I'm also a former professor. My specialty is trauma focused CBT (google that). Recently, I got bored, so I decided to get an MBA (ew numbers and strategy).
That's the boring stuff! I am the mother of a 2-legged wonder! He is the BEST thing since chocolate cake! I'm most proud of being his mom, a daughter, and the most amazing best friend! I promise to always have your back! I created this podcast because we need to start talking about mental health in a way that's normal, and funny? C'MON! You've never looked back and laughed at yourself? 
Serious note…aside from the big man upstairs…I owe who I am to my clients. I am honored to be your human diary. Thank you for trusting me with your healing.
Come along, as we heal the world, one person, one family, one community at a time.
XO-Dr. A